This story is available in german only at the moment.
To care for each other. To give life room. Seize the moment.
Vernissage:
Im Rahmen der 20. Berliner Hospizwoche veranstalteten der ambulante "Palliativberatungs- und Hospizdienst Horizont (ein Projekt von Bodhicharya Dtl. e.V.)" und der "Ambulante Hospiz- und Palliativberatungsdienst der Sozialdienste der Volkssolidarität" gemeinsam mit dem Fotografen Jakob Voges eine Vernissage für eine Fotoausstellung.
Er portraitierte das Lebensende zweier Sterbender und die einfühlsame Begleitung zweier Ehrenamtlicher. Die Fotos zeigen die Intimität solcher Beziehungen und versuchen, das Leben am Lebensende einzufangen.
Die Veranstaltung wurde am 23.09.2017 im "Stadtteilzentrum Marzahn, Berlin" eröffnet mit einem Grußwort der Bezirksbürgermeisterin Pohle.
Gesichter der Hospizarbeit:
Antoinette Grundmann:
Info
Peter Paduch:
Info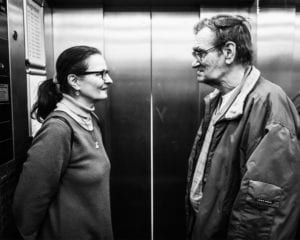 "Ich bin im Ehrenamt als Hospizhelferin, um Sterbenden beizustehen. Dabei öffne ich mein Herz und sehe nur den Menschen. In den letzten Momenten offenbart sich die Essenz des Lebens"
Tanja Queling über ihre Arbeit