I love my job, I love my music - and I love pottery!
"Pottery Maurer" – The "Traditional German Pitcher Manufacture" in Frankfurt am Main by Monika Maurer.
Over cups, caps, "Bembel" (trad. Pitcher) in all forms, sizes and typographies – you can even buy Gummybears and dishes, schnaps and gift-sets .
"I was a classical guitar teacher before I started to work as a "Pitch-Creator." I taught for 20 years at the "Dr. Hochs Classical Conservatorium" in Frankfurt am Main. After my husband died I did both – "Musician" and "Pitcher-Manufactor"! Sometimes I play at the National Theatre Wiesbaden ("Staatstheater Wiesbaden) in the MT-PIT.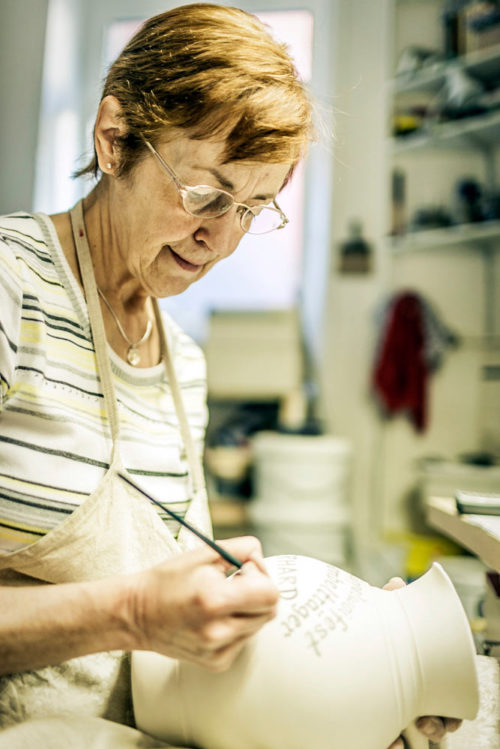 Monika Maurer creates a Pitcher
The history of my Business started 1973. Years ago this little factory was led by my husband and me.
My husband made his profession out of his passion – and I walked with him the whole way to open a small Pottery in "Frankfurt Sachsenhausen", just with a small foot operated pedal potter's wheel, some brushes, colours and a small oven.
He was a master in pottery and responsible for creating pitchers, cups and dishes, while I could live my passion to paint and give them a personal style.
Nowadays the Business delivers private people, tourists, small and bigger businesses like the German Soccer Team "Eintracht Frankfurt". I created for them a Fanshop with extra Articles created by myself, or "Lufthansa": They buy Pitchers for their First Class passengers!
2012 she created a 5'7″ big Pitcher with 182 gal barrel.
1102 Pound Westerwald Stoneware clay was manufactured piece for piece and put together within 2 weeks in stripes.

Last but not least the "handle" and "spout" were put on and then burned at over 2300 °F with a 1.84 cook-salt-glaze.
The "Bembel" gets 1/10 smaller and weights 660 pounds in the end.

Monika Maurer needed more than 1 day to paint the Bembel.
In 2016 it was placed into the "German Applewine Museum" ("Deutschen Apfelweinmuseum e.V.")
in Frankfurt/Main and a "Guiness Book of Records" entry is planned.